Detecting the aroma of freshly baked pies, the sound of sizzling funnel cakes while butter drips from corn on the cob. Observing branches sway as warm breezes gently blow through the trees. Bodies seem to glow from the intense sun as it caresses delicate exposed skin. Crowds gaze longingly for one-of-a-kind, hand-made items up for sale. Eavesdropping in on the constant hum of chatter between friends and strangers as it overflows into laughter. Parents warm hearts bursting at the seams, filled with the passion of hearing the excited shrills from their children playing in the park. The sounds of Celtic and Bluegrass music wafting through the air, as classic cars cruise the strip. while motorcycles line the parkway, longing to ride. Blue tarps held up with tent poles are looming over red and white tablecloths lining the picnic tables below. This can only mean one thing, it's festival season!
Festivals and games held in smaller communities have that special feel about them. Attendees are invariably friendly, some are just curious, while others seem to be exuberantly overjoyed. People come from neighboring towns, or far off cities. While some camp in tents or RV's, others stay in hotels or just visit for the day. The feeling is overwhelming, as though everyone is one big happy family. Stories are told of the olden days, while strangers are welcomed as friends. It gives one a longing of days gone by when the world seemed kinder and a little less chaotic. Small town festivals, no matter what they represent, bring a sense of love and peace throughout the community. One such town, Sutherlin Oregon, holds their annual Blackberry Festival during the third weekend in August. One year after stumbling upon it, with joy and anticipation, I ventured out to see for myself.
Joined by family, friends and the dog, I trekked down the road, towards the county park. It looked to us like the entire town was outside. Sitting on blankets on their lawns or in chairs taking up the sidewalk. Some were in the backs of their cars, while others stood on the curbside. One couple even dragged their living room sofa outside as not to miss out on the fun. All were waving to family and friends driving by. Souped up Dodge and Ford Pickup trucks with the US flag whipping in the wind, while teenagers riding in the back, smiled and waved. Model T's, and MG's were blasting their horn in the sound of a frog's ribbit or a duck's quack. There were Ford Mustangs, Dodge Chargers, and even a Prius or two, spinning around then driving by again. Kids and adults alike were running after candy being thrown from car windows. Friends were laughing and joining together in the warm summer night. It's a car parade, classic Americana with a small town mentality.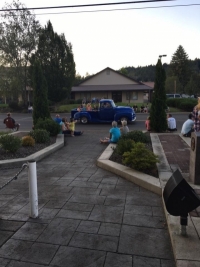 Standing on the makeshift stage, belting sounds of old time classic rock and roll, the band rose to the occasion as evening fell deeper into night. Moms holding babies, men, women and children began dancing to the tunes in the parking lot of the local Les Schwab. Though most knew each other, everyone welcomed strangers without hesitation and danced like no one was watching.
Resubmitting to daily life in the big city, where customers take an Uber to Salt and Straw http://www.saltandstraw.com waiting in line an hour or more for their gourmet ice cream. That feeling of belonging, of fitting in, no matter your age or personal appearance, outweighs the monotony.
"My whole life I thought I was Native American. After taking the DNA test from ancestry.com, I realized I'm actually Scottish! So I turned in my headdress for a kilt"
This story volunteered by a vendor and history buff, is just one of the many stories to be overheard if you just take time to listen. Sit on the park bench awhile and observe the overwhelming passion and dedication all around you.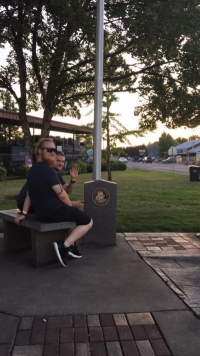 Hence if there is a festival in or near your hometown, or even a days' ride away, take that moment. Pitch a tent, eat the food, buy the wares, listen to the music, watch the games, ride the rides, let yourself go and enjoy!