As hard working single women living alone, therefore needing a getaway, we began looking for a destination directly between our two states. Both loving the country life and looking for cowboys or ranchers to corral, we landed on Dallas Texas.
Growing up in Oregon, I always knew about my cousins in New York, although we only met once in our teen years. In 2017, Meribeth, who is three months younger than me, flew to Idaho to visit her mother who was dying of cancer. Keeping in touch daily, we deciphered how parallel our lives have actually been.
Being the conniving cousins we are, with scheming minds, my dad and I flew to Idaho for a visit. Plan hatched, dad was able to say his final goodbye to his sister and we cousins had the chance to get to know each other better.
DALLAS TEXAS
Southwest Airlines, flew us each into Dallas Love airport 30 minutes apart for a long Labor Day weekend. The crowd seemed to fade away as I saw my cousin standing at the gate waiting for me to disembark. Making our way to baggage claim we rejoiced at the fact that we actually went through with our plans. Cowboys and Ranchers readily available what more could a single girl ask.
Adventure and flexibility are the words of the day when traveling with me. Little did I know my cousin was just like me! Two hours and 5 credit cards later, we finally drove off in our 2018 Chevrolet Camaro convertible. Wearing our matching vintage 1960's cat eye glasses, "Thelma and Louise" hit the road. Dallas will never be the same.
VOODOO CHILE
Vintage with a touch of the bizarre. Voodoo Chile, the brain child of Jimi Fukushita, is a hippie's paradise. While searching for consignment shops, we happened across the website and took a chance. Incense burning, the scratchy sound of vinyl on the record player blasting Jimi Hendrix, instantly transported us back to our youth. "Who are the artists of these amazing paintings?" Meribeth quizzed Jimi. "I am" was his resounding answer. Entering a room full of bell bottom jeans, go-go boots and platform shoes, we passed through a time portal to the 1960's. What an era that was.
Each room had its own design on the past, therefore transporting us back to our childhood. Jimi with his long hair, John Lennon glasses and tattooed hands was a gem himself. A precious find amongst the pebbles. After browsing through vintage playboy magazines to find the ones from our birth month, we departed with smiles on our faces and packages in our hands.
SOUTHFORK RANCH
The other main reasons we chose to visit Dallas stems back to my teenage years. The TV prime time soap opera "Dallas" premiered on April 2, 1978 and ran all the way through to 1991. I had a crush on the ever scheming JR Ewing, having a heart for the bad boys. "Who shot JR", was the question of the decade. Seeing the actual location and walking in the very places the actors themselves spent many years was a dream come true.
As the camera pans the skyline of the city, you hear the majestic sounds of the trumpets playing the theme song. Become instantly transported into the realm of Ewing Oil. The mansion was set in the middle of nowhere looking as grand as any Castle in Europe. As you drive in, the Estate becomes smaller until you realize it's just a home, but what a home it is. Daily tours are available of the mansion and museum. The enormous conference rooms are available for rent for weddings and proms alike. Join one of the many trail rides available and enjoy the beauty of the area.
I was a teenager once again, as we had drinks with JR in the parlor and re-enacted the balcony scene when JR threw Kristen into the pool. A check off my bucket list for sure, thanks to our amazing guide Bette. http://www.southforkranch.com
YOU TAKE FLIGHT LLC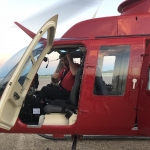 .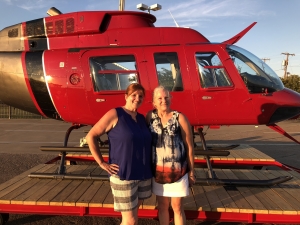 .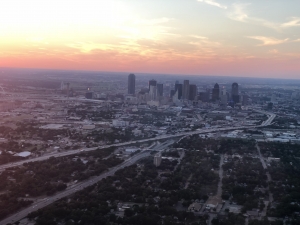 Happening across a helicopter ride in Groupon, Meribeth's response was "Book it Dano". Before the flight, a questionnaire was emailed to us. Answering the queries as to why we were taking the tour, the owner contacted me. Kelley from "You Take Flight" was so enthralled by our story, two cousins meeting again years later, she offered a complimentary upgrade. VIP helicopter tour to view the city skyline at sunset.
Owner Wolf Haeberle talked his wife Kelley into buying a Jet-Turbine Helicopter and moving it into a hangar at the Dallas Executive Airport. "What will we ever do with that", was her response. Offering rides to tourists and locals alike throughout the day and evening, the couple have found their niche. Ecstatically blown away by the experience, we were in total complete bliss by the time we landed. This is a must on anyone's bucket list! http://www.youtakeflight.com
The next day we ventured out to visit a life long friend of Meribeth's whom had moved to Texas years before. Offering a place to stay and taking us to a local Honky Tonk their Southern hospitality was in check. With the offer to cook your own steak over the open grill for $2.00 off your bill and live music it was the ultimate Texas experience. The band played waltzes and boot scooting music as the the dance floor filled with old and young alike. A treasured memory for years to come.
SIXTH FLOOR MUSEUM
History. It can be good or bad. As Americans, we've all heard the story and seen the pictures of President John F Kennedy's assassination. November 22, 1963, our country went into shock. The nation mourns as TV anchors and radio DJ's announce, "The president has been shot". The city of Dallas went into a complete panic. Shots were heard from a nearby building and the grassy knoll below, as people screamed and ran away.
Both a treasure and a heartache, the JFK memorial Museum aka 6th Floor Museum, is a must see in Dallas. As you enter the building you are greeted with a set of earphones. Enjoy the self guided tour at your convenience. Walk through history as you witness the joy turn into panic on the street just below you. John Wilkes Booth allegedly used the shotgun from the corner window. Look for the white X on the street below, that marks the exact spot the car was located when the president was shot. http://www.jfk.org
REUNION TOWER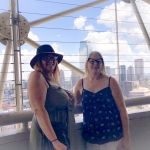 .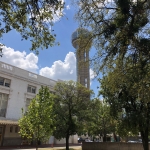 .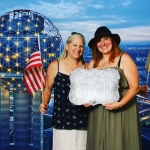 Standing 561 feet above the city, Reunion Tower is one of the most recognizable buildings in all of Dallas. Built in 1978 as an observation viewing point, the tower hosts restaurants and shopping alike. Take time to enjoy the fine dining at Wolfgang Puck's Five Sixty or a causal meal at Cloud Nine. Witness the 360 degree view from the GeO-deck, an indoor outdoor observation platform. Enjoy playing interactive games to view various areas of the city and surrounding areas. On a clear day you can even see Fort Worth 32 miles away. http://www.reuniontower.com
FORT WORTH STOCKYARDS
Last but certainly not least we venture out to Fort Worth for a couple of nights. With rain in the forecast we opted to put the top up. We arrived just in time to see the daily Cattle Drive happening down main street. As the rain began pelting, needless to say, we found ponchos for $3.00 each and bounded down the streets at the Stockyards. Now when you hear the word stockyard, your mind might automatically think of horses and cattle being sold at auction. That's not happening at these Stockyards anymore, they have turned it into a tourist attraction of sorts with shops, hotels and petting zoo.
Meribeth opted for some shopping, meanwhile I ended up watching an old fashioned shoot out in the main building waiting out the rain. On a mission to find a cowboy hat and boots for Meribeth, we wandered down the main drag. Hat purchased, we entered the Stockyards Hotel, known for it's infamous celebrities, Bonnie & Clyde and Butch Cassidy to name a few. Where do we end up, but the bar of course! With saddles for seats, we belly up to the bar for the famous Margaritas and Texas Nachos. Meeting one guy between the two of us, our visit was not in vain. No, we did not bring any cowboys or ranchers home with us, but our time was enjoyable just the same.
TILL WE MEET AGAIN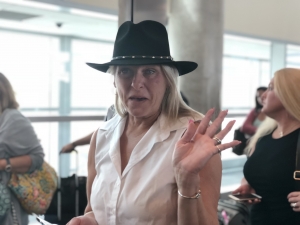 Finally, as every good thing eventually does, our time had to come to an end. With tears in our eyes and glowing faces we said our goodbyes. My onetime distant cousin has become my closest friend. Although we didn't know each other growing up, the time and distance no longer matters. Family or not, we will always have a special bond that no one or nothing can take from us,