Protocol for 2020
With the pandemic still in full swing for the coming winter months, The Grotto has taken steps to ensure the safety of not only their volunteers and staff but for the visiting public as well.
For the first time since 1988, the Festival of Lights will not be available to those wishing to attend the evening ceremonies. As an alternative, they are offering various activities during daylight hours.
Beginning the day after Thanksgiving visitors can:
Visit the Nativity
Walk the path and listen to the story of the birth of Jesus
Write wishes on the Trees of Hope
Visit the Chapel of Mary
Light a candle
Take a holiday photo in one of the great photo op spots
Do some Christmas shopping in the gift shop
In addition to this, those that purchase admission to the scenic Upper Gardens will enjoy various special seasonal decorations.
Largest Christmas Choral Festival in the World
What better way to celebrate the Christmas season, than with a visit to "The Festival of the Lights". The Grotto, in Portland Oregon, houses the largest Christmas Choral Festival in the World, running from the Friday after Thanksgiving through December 30th. The festival features nearly 160 indoor holiday concerts performed by various regional school, church and civic choirs. The Chapel, with it's heavenly acoustics and seating for 600, houses 5 separate concerts each night. Meanwhile outside in the tented areas, a master puppeteer and the Grotto Carolers perform nightly. Live animals are also on display throughout the plaza.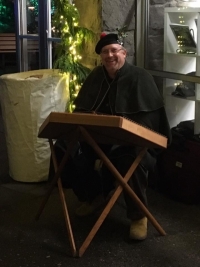 Things To
Know
The festival is a walk-through event consisting of approximately 1/4 mile. Average visit usually entails 75-90 minutes. If visiting for a particular choir's performance, it's best to arrive 30-45 minutes prior to the scheduled event. Although the entry paths are outlined in lights, caution is advised, as the path is somewhat dark and uneven. Being an outdoor event in the wet, chilly Pacific Northwest, we highly advise to dress for the weather. Rain boots or at least rubber soled shoes, warm coats, hats, gloves and scarfs are recommended. You just might catch a few snowflakes on your tongue if winter comes early.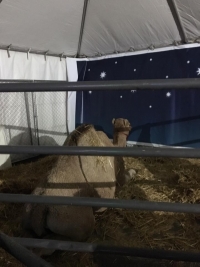 Group Visits
Groups consisting of at least 15 receive discount pricing from November 27th-December 17th only. Groups must arrive in same vehicle and pay together as one. Payment in advance is requested, but may pay upon entry. Bus driver and coordinator admitted free with group payment.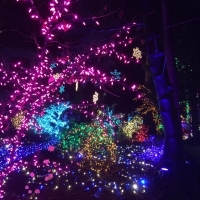 Location, and Times
8840 NE Skidmore St. Portland, OR 97220
Main Entrance and Free Parking located at Sandy Blvd and NE 85th
4.0 miles from the Portland International Airport
Hours: Nightly 5:00pm-9:30pm (festival grounds close at 10) (Grotto grounds close at 3pm)
Tickets: General Admission $11.00
Senior (65+)/Military $10.00
Children (3-12) $6.00
Children (2 and under) Free
Closed on Christmas Day